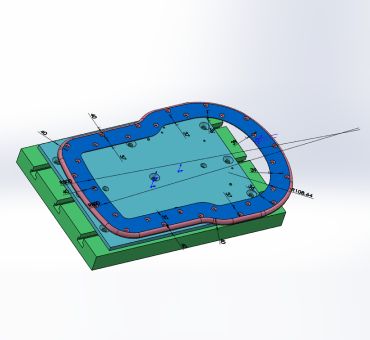 Sotek create high quality, detailed & true three-dimensional models of any mechanical part, system or assembly at an affordable price. We have a strong team of experts ready to put expertise in to your project.
We understand that the development of your project can be a time consuming and laborious process, this is why we are on hand to support and guide you from product inception to adapting your existing range to suite your applications.
During design stages we will always review the part requirements to provide an optimum solution in the production cycle. This allows us to always offer cost-effective solutions to our customers.
We can also modify your existing designs to reduce material waste and therefore reduce your manufacturing time and material costs.
We follow these 6 steps to ensure the mechanical design is optimum:

Step - 1
Outline the concept/problem
This will enable us to have a clear idea of what the problem is before it is overcome.

Step - 2
Conduct Research and Collect Information
By researching & collecting all relevant information in form of sketches/pictures/documents, we build a solid base to work from.

Step - 3
Brainstorm & Analyse Ideas
Bringing the team together to brainstorm and create preliminary sketches whilst ingesting all of the data that has been gathered allows us to understand how this will potentially impact the design.

Step - 4
Concept Development
This is where we will create the first design solutions driven from the activity in the previous three steps. Generally offered in a CAD Solid model format.

Step - 5
Review & Gather Feedback
Here we will present our ideas and concepts back to you. From the feedback generated we will make amendments to the concept in line with your requests.

Step - 6
Completion
Final tweaks to the design are made, the completed project is handed back to the satisfied client.
Get In Touch With Sotek Engineering LTD.